As posted on FosterEDU
A simple, yet troubling rule of thumb drives enrollment to community colleges, for-profit colleges, and some four-year open-access institutions. As reported by Inside Higher Ed, employment and unemployment rates drive spikes in enrollment at these institutions, and play a much greater correlation than other population trends. It's a logical and consistent link: when unemployment rises, so do enrollments to community colleges. This is due to the fact that when people of low-income become unemployed, they are freed up to invest their time in higher education. When unemployment is down, low-income students do not have the luxury to go to school, because they have immediate monetary needs, and must go to work while employment is an option.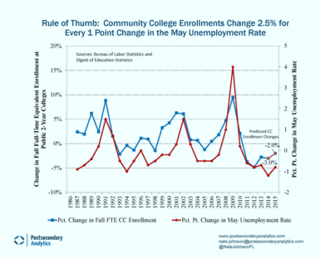 The biggest cost in this scenario is opportunity cost. Middle- and higher-income students are often not burdened with having to earn enough money to pay for rent and food, or even provide for others. Spending the time to go to school is a practical and worthwhile solution for them, as it should be. Unfortunately, for lower-income students, spending the time to go to school is an opportunity cost, hence the dip in enrollments to colleges when unemployment is down. Poorer students should not have to wait until they are out of a job to be able to consider going to school. This is not only a surprising, but tragic outcome of our education and workforce system.
There are several solutions we see in order to weaken the unemployment-enrollment correlation. First, education providers need to keep developing innovative education solutions to provide a flexible alternative to the brick-and-mortar college or post-secondary institutions. A great way that ed tech companies are doing this is through accredited online and blended learning, MOOCs, and stackable certificate programs. This way, lower-income students can work to get their degrees and certificates at a pace and time that works for them – so they can work toward their career goals during times of employment, and between jobs.
An additional solution is for employers to provide workforce development training, and/or pay for or subsidize education for their employees. Not only will this help to improve employee retention, but working students have an incentive to get their education while still keeping their jobs. As an education provider that partners with many different markets, Penn Foster also works with employers to offer flexible online programs for their employees.
No one has the power to control the fluctuations in national employment rates, but it is crucial that students of all economic groups have alternative education options to choose from so they can balance earning an income with gaining new skills to get to the next level in their careers. Together, we can work to develop, promote, and implement these alternative programs so students are aware that these options exist, and be a viable alternative to the traditional route.