About Me
Hi, my name is Frank Britt, and I think a lot about education and skills enhancement and its power to transform lives. It is my mission to create a national movement to better connect affordable education, career pathways, and job creation for traditionally underserved people. In order to ensure everyone has the chance to realize their full potential in life, we must enhance the income mobility for millions of people, and I believe that affordable education is a fundamental ingredient to making that happen.
I currently serve as the CEO of Penn Foster, a leading provider of career pathways for opportunity youth and adult learners through our diverse portfolio of affordable online diploma, certificate and degree programs. With over 30,000 graduates each year across our schools, Penn Foster's online and blended learning programs are delivered in a self-paced, competency-based model surrounded by comprehensive academic, professional and personal support to help our students succeed. By providing students and employers with innovative career pathway solutions, we are in a unique position to bridge the gap to employment and career growth for the middle-skilled sector.
My Background
In my younger years, I didn't always recognize the connection between education and a successful career and fulfilling life. Towards the end of my high school journey I was struck by the realization that the habits learning and the disciplines of investing in yourself could serve as the catalyst for a different future. I became more focused and raised my self-expectations as a student, a leader and community member. With recognition that not all paths are linear, I began to pivot my life strategies and eventually earned my way into Syracuse University. After beginning my career in management consulting, after six years I found myself wanting to shift from helping advise clients to actually leading organizations as a general manager. I also came to better understand the concept of service to others, and the important priority focusing more of what you can do for others rather than yourself. It was just one of those ideas that a lot of people say a lot of things, but when push comes to shove, your actions and words need to be in alignment with the principles that you espouse. Combining a career as a business executive with an earnest commitment to help enable people who aspire to grow made the knowledge and skills marketplace a logical career focus.
Over the past decade, as a CEO, I have led Pri-Med – the largest medical education training company for primary care physicians that consisted of providing clinically relevant online and on-the-ground continuing education to doctors. It was extremely rewarding because through this work, we were impacting the lives of millions of patients. I found myself wanting to do more. In late 2011 I began working for Penn Foster. Here, we are providing affordable and flexible education to over 125,000 active students and 1,000 partners, including employers, youth organizations, and career schools. With over a century of experience in supplying non-traditional learners with the means to accomplish their academic, professional, and personal goals, Penn Foster is now a leading provider of ed-tech enabled career pathway solutions for both students and our employer partners. (Curious about our partnerships? Ask me!)
Why this movement matters
With over 29 million Americans over the age of 18 lacking a high school diploma, and 7,000 students dropping out of high school every day, we must prioritize developing alternative learning pathways to help these individuals receive the education they need to thrive. More specifically, there are 6.7 million young people between the ages of 16 to 24 are neither enrolled in school nor participating in the labor market. These are America's Opportunity Youth, and they represent enormous potential for our nation's economy.
As the Education-Achievement gap widens, 40% of employers cite lack of skills as the reason for job vacancies, and 2⁄3 of employers report difficulty filling open positions. Though education plays a pivotal role in creating opportunities, those living paycheck-to-paycheck often do not have the time or money to commit to going back to school.
Penn Foster's role is to design and provide solutions to fill this gap by connecting our undereducated and unemployed youth and adult learners to new career pathways through alternative educational opportunities. In order to reach as many learners as possible, it is imperative to develop partnerships across a diverse and widespread set of industries. By creating stronger connections between education, career pathways and job creation, we can begin to close the employment gap and ensure all learners receive the quality education they deserve.
About this site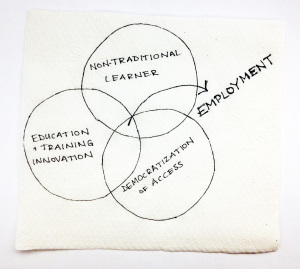 This site is categorized into three main "themes":
The Non-traditional Learner
Education and Training Innovation
Democratization of Access
At the intersection of these three categories is employment.
To learn more about my thoughts on education and leadership here are some representative examples: